Staff
Our dedicated staff are here to provide support, compassion, and information to help you through your journey of grief and the celebration of your loved one's life.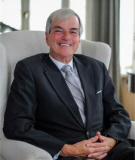 DAVID M. CHIAMPA
Funeral Director
David M. Chiampa, a Newton, MA native, has been a licensed funeral director and embalmer since 1978. His career began in 1973 with positions at area funeral homes in the metro-Boston areas, Harold L. O'Neill Funeral Home, Dorchester, Gerald W. Lehman Funeral Home, Brighton, Walsh-Fennelly Funeral Home, Waltham including the Joseph G. Valente Funeral Home and Thomas J.Lyons Funeral Home in Newton.

David's expertise is the result of a 40-year career in funeral service. Having worked for many funeral directors he brings a varied compilation of skills that enhance the operation of the Chiampa Funeral Home.

David earned his degree in Applied Arts and Sciences from the New England Institute of Applied Arts and Sciences in Boston, MA. Also owned and operated Garden City Livery, West Newton for many years. Served as a Executive board member of the Funeral Institute of New England for several years. Longtime member of the Knights of Columbus, Council #12701, Boylston, 4th. Degree Assembly No. 399, Worcester.

David lives in Shrewsbury with his wife, Mary Ann, and their son.